Date
2020-03-31 11:30:00 2020-03-31 13:30:00 Speaker series: David Darst, Chief Investment Partner for Americana Partners and Senior Investment Advisor for Dynasty Financial Partners The DFW Private Equity Forum proudly presents David Darst, CFA® David is the Chief Investment Officer for Americana Partners and Senior Investment Advisor for Dynasty Financial Partners. David served for 17 years as a Managing Director and Chief Investment Strategist of Morgan Stanley Wealth Management, with responsibility for Asset Allocation and Investment Strategy. He joined Morgan Stanley in 1996 from Goldman Sachs, where he held Senior Management posts within the Equities Division and earlier, for six years as Resident Manager of their Private Bank in Zurich. David also served as CEO of Petiole Asset Management in Zurich. David is the author of thirteen books and appears as a frequent guest on CNBC, Bloomberg, FOX, PBS, and other television channels, and has contributed numerous articles to Barron's, Euromoney, The Money Manager, Forbes.com, The Yale Economic Review, and other publications. David graduated from Phillips Exeter Academy, was awarded a BA degree in Economics from Yale University, and earned his MBA from Harvard Business School. David has lectured extensively at Wharton, Columbia, INSEAD, and New York University Business Schools, and for nine years, David served as a visiting faculty member at Yale College, Yale School of Management, and Harvard Business School. In November 2011, David was inducted by Quinnipiac University into their Business Leaders Hall of Fame. David is a CFA Charterholder and a member of the New York Society of Security Analysts and the CFA Institute. Dallas Forth Worth Private Equity Forum dfwpeforum@ey.com America/New_York public -
Image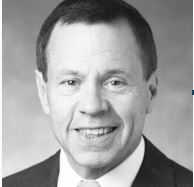 The DFW Private Equity Forum proudly presents David Darst, CFA®
David is the Chief Investment Officer for Americana Partners and Senior Investment Advisor for Dynasty Financial Partners. David served for 17 years as a Managing Director and Chief Investment Strategist of Morgan Stanley Wealth Management, with responsibility for Asset Allocation and Investment Strategy. He joined Morgan Stanley in 1996 from Goldman Sachs, where he held Senior Management posts within the Equities Division and earlier, for six years as Resident Manager of their Private Bank in Zurich. David also served as CEO of Petiole Asset Management in Zurich.
David is the author of thirteen books and appears as a frequent guest on CNBC, Bloomberg, FOX, PBS, and other television channels, and has contributed numerous articles to Barron's, Euromoney, The Money Manager, Forbes.com, The Yale Economic Review, and other publications.
David graduated from Phillips Exeter Academy, was awarded a BA degree in Economics from Yale University, and earned his MBA from Harvard Business School. David has lectured extensively at Wharton, Columbia, INSEAD, and New York University Business Schools, and for nine years, David served as a visiting faculty member at Yale College, Yale School of Management, and Harvard Business School. In November 2011, David was inducted by Quinnipiac University into their Business Leaders Hall of Fame. David is a CFA Charterholder and a member of the New York Society of Security Analysts and the CFA Institute.